FRESH HAIR Extensions
High quality hair extensions constructed with a "Shed FREE micro-machined triple weft" so that your hair extension is guaranteed to lay flat and appear natural. Freshly harvested monthly.
FREE 2oz Straight Silk Spray with Argan Oil heat protector
*Out of stock hair extensions requires additional 3 day shipping time.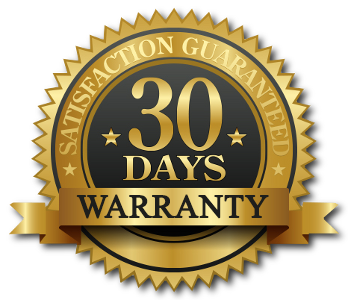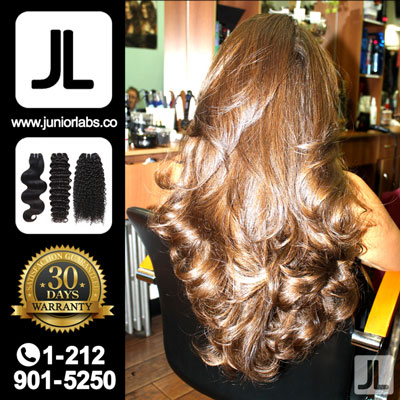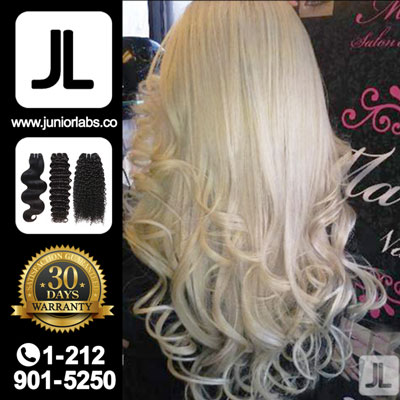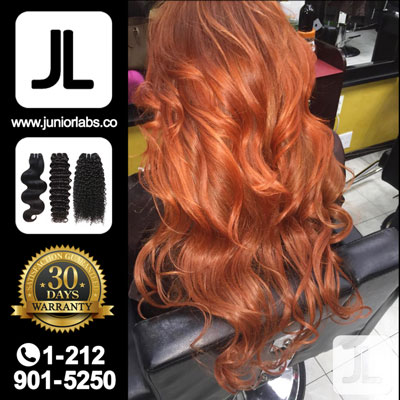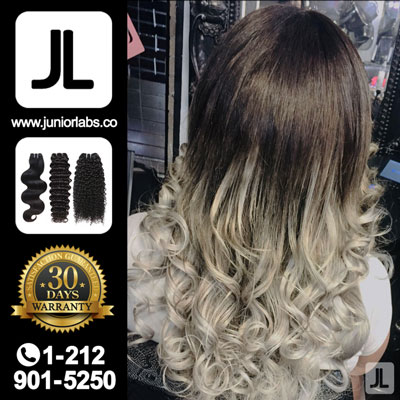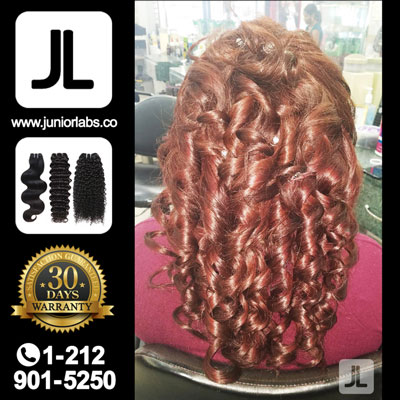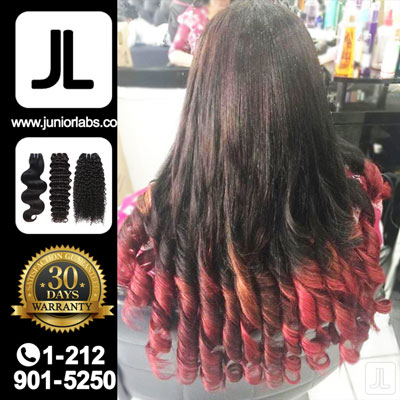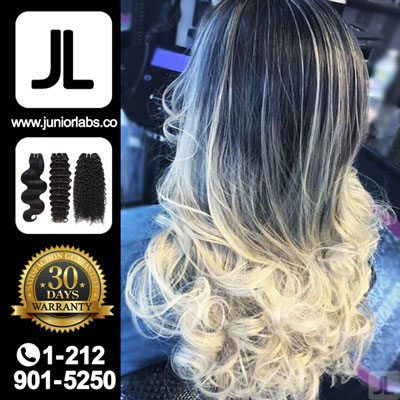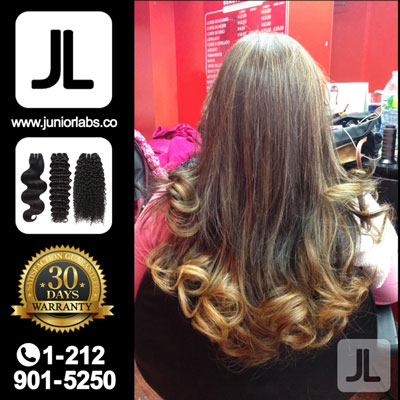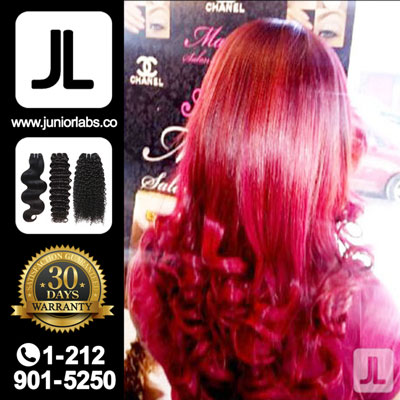 Reviews (47)
Description
Photo Gallery
Questions & Answers
Additional information
Customers' review
Rated 4.79 out of 5 stars
47 reviews
JuniorLabs® High Quality Hair Extensions are constructed with a "Shed FREE micro-machined triple weft" so that your hair extension is guaranteed to lay flat and appear natural.
Machine wefts can be cut. A small amount of glue should be used on the cut end of the weft to prevent it from unraveling and to ensure prolonged life and repeated use.
Before our "Virgin Hair" is distributed to customers it is inspected, shampooed and deep conditioned with JuniorLabs® professional salon grade hair care products. We only deal with "Virgin Malaysian" and "Virgin Brazilian" hair. Our hair will last a minimum of 12 months to 2 years with proper maintenance. A professional cosmetologist is recommended for proper care and styling of your hair extension. If you do not have a Stylist or Extension Installation Technician and are in NYC, please allow us to recommend one by contacting us.
How much hair will I need?
It really depends on the look you are going for. For partial weaves you will typically need anywhere from 6oz. to 7oz. & for full weaves 8oz. to 12oz. For people going for a fuller look, or working with hair 22 inches or longer, they should consider purchasing anywhere from 10 to 12 oz. Many of our customers purchase different lengths for natural layering (22″, 24″, & 26″).
How do you care for Virgin hair?
Because this is 100% human Remy hair you would care for it just as you would your very own. Wash and condition regularly.
Should I trim or cut my Virgin hair?
Please keep in mind that this is natural hair, so it needs the proper attention and care that you would give your own hair. Your own natural hair needs to be trimmed and cleaned up for it to be healthy and flow the way you would like Virgin Remy hair needs the same attention. We recommend trimming and cleaning up your ends after your initial installment of your extension. This will allow your hair to blend naturally.
How often can I wash my Virgin hair?
You may wash and condition once every week or as needed. Be sure to use our Straight Silk Spray for silky straight hair in half the time. Speeding up processing time by as much as 50%. As a heat protector from flat ironing, blow drying and hot rollers, simply spray throughout slightly damp hair and massage from root to tip.
REMY vs REMI
Tangling- Always choose Remy with a Y. Remy with a Y means that all the cuticles are intact, running in the same direction as it would growing out of the scalp naturally. It comes from a single donor. Remy should not tangle or mat if the hair is a good grade. Remi with an I is a brand of low quality hair. It is readily available at most beauty supply stores. In general it has been colored (#1, #2, #3 etc) or chemically treated including perming, texturing (Yaki), highlighting etc. It has already been dyed so it WILL NOT color well.
VIRGIN vs NON VIRGIN
To qualify as Virgin hair, it must be completely unprocessed and meet rigorous standards including: not been permed, dyed, colored, bleached, chemically processed in any way. Virgin hair is likely to have a few strands of gray or white hair since it is in its natural color and has not been dyed. This is a natural characteristic of 100% Virgin hair. It usually comes in a color range around #1b to #1 natural dark brown to black.
DYEABILITY
Virgin hair is the hair you want if you are going to dye the hair. All of our Virgin Hair can be colored with professional color permanent or semi-permanent.
NOTE: It is possible to get Virgin Remi with (i). Virgin Remi is hair that has been swept off the floor from a Virgin donation station and then sewn onto a weft. Although the hair has not been colored the cuticles ARE NOT in alignment so it will tangle even though it is Virgin hair. Buyers Beware.
FREE
Straight Silk Spray with Argan Oil
Heat Protector
Silky Straight Hair In Half The Time!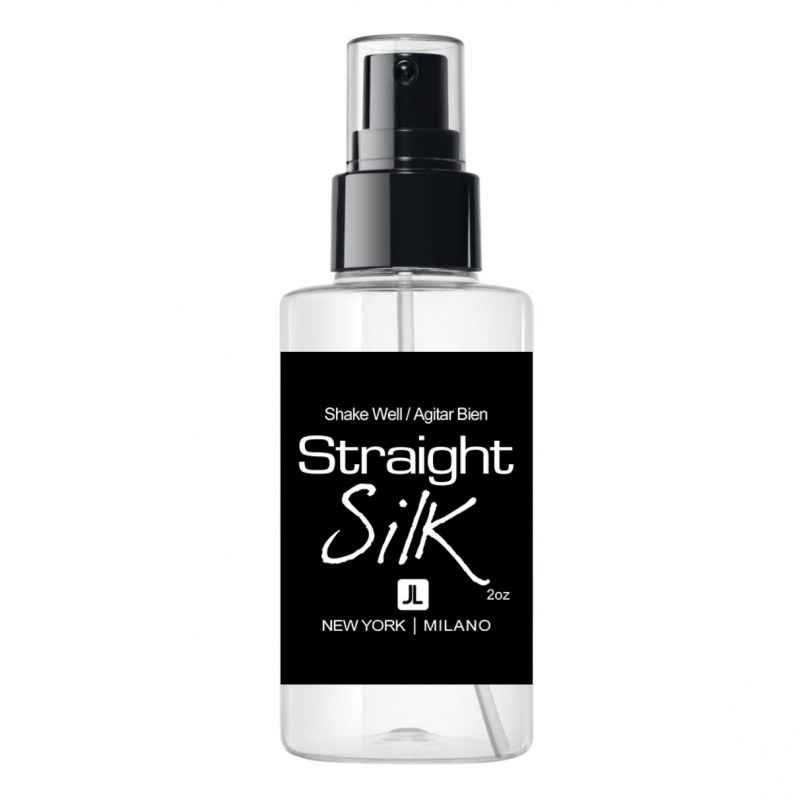 Questions and answers of the customers
A

All of our extensions are only human hair and are not mixed from different heads. A single donor for each extension processed.

A

Our extensions accept a range of color options that are available to see at our extensive website photo gallery.

A

We have the industries tightest and smallest weft for a true lay-flat hair appearance.

A

The genetics of Indian hair produces hair with cool, blue tones. Our hairs natural highlights produce warm, deep tones.

A

All of our extension textures posses a natural soft, suave feel when touched or brushed against the skin. It is not a course feeling hair.

A

All extension styles can be flat ironed. We manufacture a heat protector spray for our extensions called "Straight Silk" to speed the process.

A

The natural extension color is darkest brown which is 1B.

A

The number of packs needed depending on your application. Keeping in mind the longer the extension length the shorter the weft length so more packs may be needed.

A

All of our hair extensions are fresh hair and are date stamped on the box when harvested and manufactured.

A

Washing before installing is not needed.

A

The life of our extensions depends on its maintenance routine. Well managed hair will last up to a year before it begins to show the stresses of processing. Dyed hair will be slightly shorter.

A

We only source our hair from the mountainous regions of Malaysia which produce shiny, deep chocolate brown hair from young donors.

A

Extension weft length decreases the longer the hair is. Average weft lengths are 18"=175cm, 20"=160cm, 22"=155cm, 24"=145cm, 26"=135cm.

A

Each extension weighs between 3.5 and 4 ounces.

A

We sell extensions in sizes ranging from 18" to 30" for most textures. Our inventory is constantly changing so we may not have a size in stock that you may want and will contact you about free size upgrade.

A

We have strict standards over our quality of hair to ensure they are free of split-ends and are full to the bottom. Our hair is not from China and only Chinese hair is graded with a number which does not mean anything that represents quality.

A

Shipping time is 2 to 4 days.

A

All styles of our extensions are remy and guaranteed against tangling.

A

The pH of a shampoo should be "low" 4.5 to 5.0 pH range. This is to ensure the hair cuticle lays flat. The higher the pH number, the harsher it is to the hair. Deep conditioning is recommended twice a month and if dying the extensions.

A

All styles of our extensions can be dyed and bleached by skilled individuals.

A

When the extension is wet it revert back to its original curl pattern.
Only registered users are eligible to enter questions
| | |
| --- | --- |
| Texture | Malaysian Kinky Curly, Natural Body Wave, Natural Deep Wave |
| Length | 18 inch, 20 inch, 22 inch, 24 inch, 26 inch, 28 inch, 30 inch |
Related products